Microchip continues to offer higher functionality in their PIC microcontrollers which allows us to offer better and better keyer ICs. Our latest keyer is the K16 and it is available now. This is our 16th year selling keyer ICs and we have implemented a list of "please add this" requests as well as things that no other keyer chip offers. The K16 has non-volatile EEPROM memory, when you remove power it retains messages and settings. Twelve memory slots are provided along with many new embedded commands. In addition to HSCW support the K16 provides QRSS for VLF beacon work. Note that the K16 is not pin compatible with previous K1EL keyer ICs.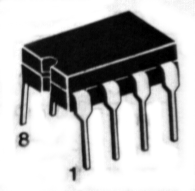 K16 Keyer Features
Speed range: 5 - 59 WPM
HSCW: 1000 - 6000 lpm
QRSS Speeds (LOWFER)
Messages: 236 letters/12 slots
Embedded commands
EEPROM message storage
Message Stacking
Two user setups
Callsign storage
Supply Voltage Monitor
Dynamically allocated messages
Backspace on message entry
Dit and Dah paddle memory
Bug, Iambic A or B, and Ultimatic keyer modes
AF keying mode
Adjustable inter-letter spacing
Autospace
Adjustable Weighting
Keying Compensation
Serial No. w/auto-increment
Paddle swap command
Beacon: 1 to 99 seconds
Sidetone: TTL Square wave
Adjustable Sidetone frequency
8 PIN DIP package
Speed control pot interface
Fast paddle speed change
Push-button user interface
22 easy to use commands
Operating Voltage:
Standard: 3.3 to 5.0 VDC
LV: 2.5 to 3.3V
Current: 1 ma, <12µA standby
Dont Forget...
We are the only distributor of the K1EL keyer chips for the UK and Europe.